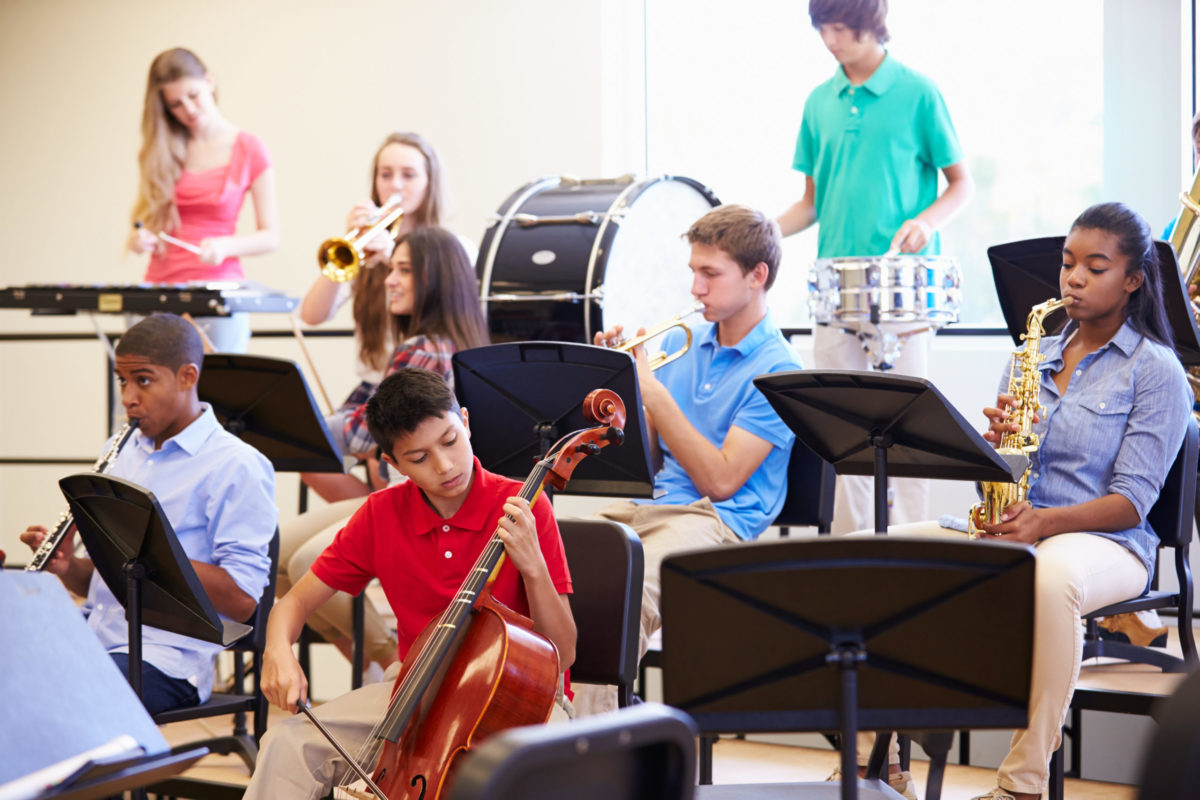 School Band Instruments: Which One Is Right For My Child?
With a new school year comes a whole new class of students who are starting band for the first time! Choosing school band instruments can feel like a big deal to your child and overwhelming to you. For some of you, the decision will be clear if your child is already studying an instrument. But if this will be their first time picking up an instrument and you're unsure where to begin, check out these tips for choosing the right instrument.
What Kind of School Band Instruments Can My Child Choose?
Most schools provide four distinct instrument categories from which students can choose. Start by determining what family of instruments suits them best. 
Woodwinds
Woodwind instruments include clarinet, flute, piccolo, saxophone, bassoon, and oboe. These instruments can be played in marching band, concert band, jazz band, or orchestra (though saxophones aren't generally used in orchestras). The majority of young students can manage woodwind instruments by the time they reach the age of ten. It is best to wait a few years, even until high school, before beginning to play instruments such as the bassoon, oboe, tuba, or euphonium – but there are always instances of young musicians who excel at these instruments. The advantage of woodwind instruments is that they are available in a variety of sizes. Therefore, if your child seems to struggle to handle a large tenor sax, the flute or clarinet may be a better fit.
Brass
Brass instruments include trumpet, trombone, french horn, and tuba. This family of instruments tends to be on the louder side but are also used in marching band, concert band, jazz band, and orchestra. Lighter high brass instruments like trumpet and french horn may be played comfortably from nine to ten years old. Students with long enough arms may do well with the trombone. Due to weight, it is best to start with the tenor or baritone trombone (three-valve). The F trigger or bass instruments are better suited for players with a little more experience. Lower brass instruments, such as single horns or tubas, are simpler and lighter than double brass instruments. The tuba, like all brass instruments, requires good physical development and lots of air.
Strings
The string family consists of the violin, viola, cello, and double bass. String players will usually participate in orchestra, but they may be used in other ensembles as well. Good coordination is key for those who want to play stringed instruments. Dr. Shinichi Suzuki states that children as early as three or four years old begin playing stringed instruments; nevertheless, some teachers and parents prefer students to be a bit older before starting on a string instrument. Because the viola and double bass demand more hand stretching, some recommend holding off on learning them until they're available as a secondary instrument. The weight of the cello and bass is insignificant since they are supported on the ground, but the size of their case may be a concern for some.
Percussion
Percussion instruments include the snare drum, bass drum, timpani, xylophone, cymbals, and the drum set. Percussion instruments are used in all types of ensembles, though most young bands will start out with only the snare drum and bass drum. Since these are larger instruments, many schools will provide them, and students can get a practice pad to take home or an electric drum kit. Percussion instruments do not require students to "blow" air, so these could be a good choice for children with asthma or those going through long-term orthodontic work like braces that would cause difficulty playing a wind instrument. However, most students manage to play wind instruments with orthodontic work just fine.
School Band Instruments List:
Common instruments found in a school band typically include:
Flute
Clarinet
Saxophone (alto, tenor, and occasionally, baritone)
Trumpet
Trombone
French horn
Baritone horn or Euphonium
Tuba
Percussion (snare drum, bass drum, cymbals, timpani, auxiliary percussion)
Oboe (in some school bands)
Bassoon (in some school bands)
Piccolo (often played by flute players as well)
Bass clarinet (often played by clarinet players as well)
Tenor saxophone (in some school bands)
Keyboard instruments (such as piano or electronic keyboard, used for accompanying purposes)
Auxiliary percussion (such as tambourine, triangle, maracas, etc.)
It's important to note that the specific instrumentation of a school band can vary depending on the size and resources of the program, as well as the preferences of the band director. Additionally, some school bands may include additional instruments not listed here, depending on the musical repertoire they perform.
Marching Band Instruments List: 
In a marching band, a variety of instruments come together to create a powerful and vibrant sound. The instrumentation in a marching band typically includes:
Brass:

Trumpet
Mellophone (Marching French horn)
Trombone
Baritone horn or Euphonium
Sousaphone (Marching tuba)

Woodwinds:

Piccolo
Flute
Clarinet
Alto Saxophone
Tenor Saxophone
Baritone Saxophone

Percussion:

Snare Drum
Bass Drum
Cymbals
Quad Toms (or Tenor Drums)
Bassline (Marching drum set including multiple drums)
Marching xylophone or marimba

Auxiliary instruments:

Sousaphone (additional players for lower brass)
Keyboard instruments (such as electronic keyboards for front ensemble)
It's worth noting that the specific instrumentation can vary depending on the size and resources of the marching band. Some bands may also include additional instruments or variations in their instrumentation, depending on the arrangements and preferences of the band director.
What Size Instrument Suits Your Child?
Sometimes children can get frustrated if they are trying to learn an instrument that is built for an adult, especially if their stature is on the smaller size. When beginning band for the first time, some children may simply not be big enough yet for certain instruments. An instrument that isn't compatible with your child might result in tension, frustration, fatigue, and potential repetitive strain injury. Certain music stores and schools provide band instrument tests to determine a student's suitability for their chosen instrument. Before reaching for their credit cards, parents are strongly urged to consult with their instructors. Learn more about violin sizes.
What Instrument Does Your Child Want to Play?
While all of these things are important to consider, it's also worth noting that your child will be much more likely to practice and enjoy playing an instrument that they want to play. While what they want to play isn't the only consideration, trying to find a balance between an instrument that fits them best and what they are interested in can create a more positive experience. Perhaps they want to play the alto saxophone, but they're simply too small in stature – suggesting they begin on flute, for now, can let them transition to saxophone with ease because the fingerings are very similar. Don't hesitate to consult the school's band director or a trusted instrument repair shop for advice.
Once you have chosen an instrument to play in the band, an important decision to make is whether to rent or buy musical instruments. There are several factors to consider when making this choice. Renting an instrument can be a practical option for beginners or those unsure about long-term commitment, as it allows them to try out the instrument without a significant financial investment. Rental agreements often include maintenance and repair services, which can be advantageous for keeping the instrument in good condition. On the other hand, purchasing an instrument provides the advantage of ownership and the ability to personalize and customize it to suit individual preferences. It also allows for uninterrupted practice and performance without worrying about returning the instrument at the end of the rental period. Additionally, buying an instrument can be a more cost-effective option in the long run, especially if the player intends to continue playing for an extended period of time. Ultimately, the decision to rent or buy an instrument should be based on individual circumstances, goals, and budget considerations.
Ready To Purchase or Rent an Instrument?
The Colorado Institute of Musical Instrument Technology offers school band and orchestra instruments for rent and purchase for students across the Denver area. If you're unsure whether your child will want to stick with the instrument you have decided on, or you know they will want to switch to a larger high school band instruments as they grow, renting a school band instrument is an excellent option! Best of all, we give you credit toward purchasing a step up instrument for you or your student when the time is right! Take a look at our website to learn more about our CIOMIT Rent Plus+ Program.